NEWS
WHAT'S HAPPENING AT THE MONK
It will be celebrated…
with pomp and parade
bonfire and illuminations
from one end of this continent
to the other.
~ John Adams (1735-1826)
From all of us here at Lazy Monk Brewing, we want to wish you a safe and happy holiday! As we enter the hot summer month of red, white, and blue, we want to share all that's happening here at Lazy Monk!
The Brewery
Slowly, but surely, bits and pieces of the new brew house equipment are starting to arrive. So far, we've gotten the new auger and mill! The rest should be coming soon!
Our Brewery Tours have begun and we invite you to come on in for a behind the scenes look! Offered twice a month and by special appointment, it is a fabulous time no matter what! Bring your friends, or your significant other, or just yourself! More information can be found on our website at http://www.lazymonkbrewing.com/brewery-tours/
Hard to believe that the fall season is just around the corner! Because it is, we have started brewing our first batch of Oktoberfest! Lazy Monk continues to keep tradition alive with our Oktoberfest; one of the oldest and most beloved bier styles in craft bier. Dating back to the early 1800s, this classic style of bier rings through in all the elements of our Oktoberfest. With a beautiful copper hue, this light refreshing lager has a slight malty sweet flavor with hints of caramel throughout. Our Oktoberfest is a customer favorite and definitely a bier worth celebrating. The first batch of this delicious bier should be ready at the beginning of August!
Promotions
July 4th Special – We know you love to bring Lazy Monk bier to all of your summer parties! Purchase any TWO 4-packs of Lazy Monk bier from participating locations and receive a FREE BIER coupon to be used in our Bier Hall!
Participating Locations include Woodman's Markets, Festival Foods, Just Local Foods, Stave & Hoop, Circle C, The Corner Store, and Economart (Spooner)! This promotion starts July 1st and ends on July 31st!
If you haven't heard yet, we brought back the punch cards! Buy 10 biers, get the 11th FREE! Turn in your completed cards for a chance to win a FREE BREWERY TOUR! Cards will end September 30, 2018 so time is limited. Come on in to get your Lazy Summer Punch Card today!
Events
July is gonna be Hot, Hot, HOT! Mark your calendars for all the amazing events we have coming up this month!
July 4th – Happy Independence Day!
Open at noon until 10pm
Friday, July 6th – Hickory Kist BBQ 4-8pm
Sunday, July 8th – Mug Club Social 6:30pm
Last social for this year's Mug Club Membership! Brats to be provided, bring a dish to pass.
Open to Mug Club Members Only – want to be a Mug Club Member? Sign ups will begin on August 1, 2018.
Tuesday, July 10th – Summer Trivia 6:30pm
Anything and everything that could relate to Summer! Don't forget to check Facebook the day of for a special clue and an opportunity for bonus points!
Wednesday, July 11th – Cultural Cuisine Night: Spain/Moroccan
We travel to the Middle East tonight with a menu featuring the flavors from Spain and Morocco including a Tagine Chicken dish! Brought to you by Forage Kitchens, we start serving at 5pm and serve until we run out. Please note dogs are only allowed on the patio during this time.
Friday, July 13th – Netty Q's Italian Food Truck 4-8pm
Saturday, July 14th – Brewery Tour 1pm
Sunday, July 15th – Ice Cream Social 4-8pm
We are super stoked about this event and thrilled to be partnering with Ramone's Ice Cream Parlor! Come on in for a chance to try some amazing bier floats, root bier floats, and delicious ice cream! Family Friendly! To check out the sample options, check out our Facebook event and click here!
Friday, July 20th – Davis Dogs Food Truck 4-8pm
Wednesday, July 25th – Cultural Cuisine Night: New York Deli
To the Big Apple we go! Tonight's meal will feature some of those amazing meaty delicatessen sandwiches piled high with pastrami, roast beef, or turkey accompanied with creamy cole slaw and classic potato salad, your bellies will be singing with delight! Brought to you by Hickory Kist, we start at 5pm and serve until we run out. Please note dogs are only allowed on the patio during this time.
Friday, July 27th – Marigold Cafe Food Truck 4-8pm
Coming in August…
Mark your calendars for two awesome events in August!
Saturday, August 18th – Brewery Olympics
We have invited several breweries from around Wisconsin to come compete in the first Brewery Olympics competition! Grilled chicken quarters and barbecue ribs will be served hot off the grill, and we will end the evening with music by Sue Orfield and Catya! More details to come….watch for the event on Facebook!
Tuesday, August 28th – Bier and Bacon Dinner Pairing
We are teaming up with Forage yet again to bring you a mouthwatering four course meal featuring everyone's favorite pork – BACON! Each course will be paired with one of our Lazy Monk biers to give you some of the most delectable bites you'll ever have! More details coming soon via Facebook!
May 2018
We are so happy it's Spring! There's nothing better than sitting on the patio, watching the river flow, and drinking a cold tap bier! Our patio is officially open, so if you haven't made it down yet, hurry on in!
What's Brewing
What's not brewing?! This will be the month of bier releases, so plan to come down every week! Returning on Friday, May 4th will be the Bier de Garde. This French style Farmhouse Ale is customer favorite and perfect for those backyard grilling parties!
Friday, May 11th will bring the return of Momma Monk's Milk Chocolate Stout on Nitro. It's so yummy and delicious, you'll want it for an appetizer and dessert!
Craft Bier Week will bring not one, but TWO new biers to our Bier Hall!  Releasing Wednesday, May 16th is our brand new German IPA! An old world and new world combo of German malts and American hops, this amber IPA will delight your taste buds! Pair this with a delicious pizza from Foster Cheese Haus, as they will also be pulling in our lot this day!
Finally, on Friday, May 18th, we release our Citra Hefeweizen. This will be a German style Hefeweizen or wheat bier made with Citra Hops and Hefeweizen yeast which will give it a truly distinct flavor.
Craft Bier WeekMark your calendars for this amazing week!
The Lazy Monk Eau Claire Passport Punch Card Promo: Travel around Eau Claire and visit several amazing places for a chance to win the Grand Prize Summer Bier Cooler which includes a case of your favorite Lazy Monk Bier, summer grilling meats from Mike's Star Market, and gift certificates to all participating locations – for a total value of over $200!
Get a punch card by stopping in to any of the 10 participating locations. Make your way to each place and purchase a Lazy Monk bier to receive a sticker on your card. Collect all 10 stickers and be entered to win the Grand Prize. All entries must be turned in at Lazy Monk Brewing by 11pm on Saturday, May 19th. Drawing will be on Sunday, May 20th and announced via Facebook (we will also call the winner.)
Participating Locations:
The Classic Garage
The District
The Growler Guys
Grizzly's
Houligan's Steak and Seafood Pub
The Lakely
Mogie's Pub & Restaurant
Monk's Bar & Grill
Northern Tap House
Princeton Valley Golf Course
Lazy Monk Party Promo: We know you have a ton of parties planned for the summer, and we are here to help you out. Purchase two 4-packs from participation locations and receive a Free Bier Coupon to be used in our Bier Hall!
Participating Locations:
Festival Foods
Woodman's Markets
Just Local Foods
Stave and Hoops
This promotion will run from Friday, May 11th – Saturday, May 19th. Free Bier Coupons redeemable until June 30, 2018.
Closed for Waxing
It's that time again – time to give our floors a facelift. In effort to clean and polish them, we will be closed on Sunday, May 20th and Monday, May 21st. We will re-open on Tuesday, May 22nd.
May Events
We covered a few already, but here's the list of this month's events:
Tuesday, May 1st – May Pole Raising
Join us as we raise the May Pole! Hit up the Hickory Kist Food Truck for some delicious BBQ fixin's, and then stay for Bingo for Biers and try your hand and dropping a clothes pin into a growler! Finish the night up by relaxing and listening to live music with Sage Leary!
Food 4-8pm (or until runs out)
May Pole Raising 5pm
Games 5-6:30pm
Music with Sage Leary 6:30-9:30pm
Cinco de Mayo
In case you were unaware, a few of the common Mexican biers have their roots in Europe, and so we celebrate Cinco de Mayo! Saturday, May 5th, come on down in your favorite festive wear and drink to the 5th of May. We will have chips & salsa, those yummy soft pretzels served with jalapeño cheese sauce, and a special lime infused Cinco de Mayo bier! Marigold Cafe also returns with their delicious warm paninis and gelato from 12-5pm.
Food Nights
We continue our travels around the world through the month of May, as well as hosting a few food trucks this month. Please note that on Cultural Food Nights, dogs will only be allowed on the patio while food is served. We will serve from 4-8pm or until food runs out.
Tuesday, May 1st – Hickory Kist BBQ (4-8pm)
Saturday, May 5th – Marigold Cafe (12-5pm)
Wednesday, May 9th – Cultural Food Night Greek Style (4-8pm or until runs out)
Friday, May 11th – NettyQ's Italian Food Truck (4-8pm)
Wednesday, May 16th – Foster Cheese Haus Pizza (4-8pm)
Friday, May 18th – Davis Dogs (4-8pm)
Wednesday, May 23rd – Cultural Food Night German Style (4-8pm or until runs out)
Friday, May 25th – Marigold Cafe (4-8pm)
Summer Hours
Starting Memorial Weekend we will return change our hours to accommodate the beautiful weather! Hours will be as follows:
Sunday 12-10pm
Monday – Thursday 2 -10pm
Friday 2-11pm
Saturday 12-11pm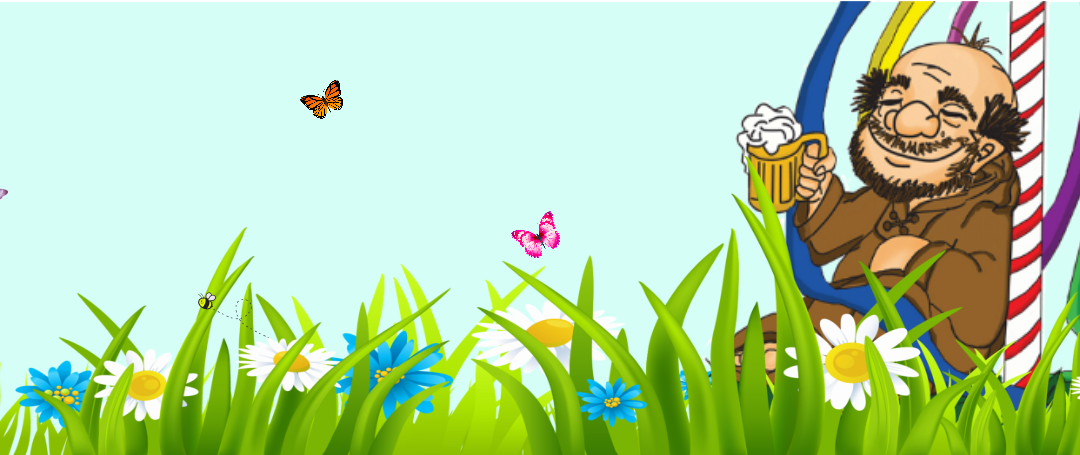 April Newsletter
Bier – tasty, delicious, refreshing, relaxing, and the only reason we wake up every afternoon! Not sure where the month of March disappeared too, but we are excited to see April as it's one month closer to summer, and this month is jam-packed with awesome events for your enjoyment!
Patio Opening
We are keeping a close eye on the weather and as soon as Mother Nature keeps it nice, the patio will open up. We are as anxious as you are to sit outside with our favorite brew and watch the river flow by! Stay tuned to Facebook for an official opening date.
Changing of the Biers
Since Old Man Winter should be packed his bags and leaving on a jet plane, it's time to welcome in this season's biers. The Vienna Lager is anxious to return our tap list, and the Bier de Garde is also hanging out in the batter's box ready to hit the summer home run. Mrs. Monk's Chocolate Stout will also make another visit to our tap line up.
New Bier Release
Making it's debut at the end of April, will be the next bier in our Limited Edition Imperial Line. Ludmila (lood-mee-la), Grandma Monk's bier is hand-crafted based on the personality of Leo's grandmother. A sweet, unassuming, and remarkable woman who, upon her death, was discovered to be a secret bootlegger! This beautiful golden lager will feature a laid-back reserved flavor with sweet hints of vanilla and a smooth bourbon finish.
Cultural Cuisine Nights
Travel the world with us as we launch our Cultural Cuisine Nights for the summer season!
Nine fabulous nights to make your taste buds scream in pleasure! Hickory Kist  BBQ and Forage Kitchen will bring you a variety of unique dishes from around the globe,  as well as some regional favorites from the good ol' USA! See the schedule below and mark your calendars! Food will run from 4-8pm or until they run out. Please note that during these times, dogs will only be allowed on the patio.
Thursday, April 19th: N'awlins Cajun Flair
Wednesday, May 9th: Opa! Going  Greek
Wednesday, May 23rd: Glutton for German Gourmet
Wednesday, June 6th: Tempting Tastes of India
Wednesday, June 20th: Hearty Havana's Cuban Cafe
Wednesday, July 11th: Marvelous Mouthwatering Moroccan
Wednesday, July 25th: Explore the Big Apple – New York Deli
Wednesday, August 8th: Farm to Table – Eau Claire Farmer's Market
Wednesday, August 22: Finger Licking' Good – Southern Comfort Food
This Month's Events
Where do we even start?! So many things…
April 12th – Beer Choir
Bier Choir! A night of singing German bier drinking songs while drinking bier! Lead by some great local singers, you'll be singing your hearts out as well. Don't want to sing? No worries, come, watch, and enjoy some fun. 7:30-9:30pm
Wednesday, April 18th – Trivia Night
One more Trivia Night before the summer season hits. Tonight's theme is TV Sitcoms and it starts at 6:30pm. Prizes for the top team!
Thursday, April 19th – New Orleans/Pre-Jazz Fest Night
In celebration of Eau Claire's Jazz Fest, we offer you a kick-off night. The wonderful Hickory Kist team will be here with some amazing Cajun-style dishes to delight your taste buds. After the food has settled, kick up your heels and tap you toes to the incredible musical talents of Liscio Jazz. Food from 4-8pm, Music from 7-10pm. (Dogs only allowed on the patio while food is served.)
Tuesday, April 24th – Mini Garden/Gnome House
Celebrate the warm weather by creating your own mini garden/gnome house! We are teaming up with Arts, Etc. to make adorable little gardens for your patio! 6:30pm. $25/person includes all supplies and a delicious tap bier! Advanced sign-up required; see a bartender.
Friday, April 27th – Celebrate Spring at Lazy Monk
You will not want to miss out on this! The brand new Ludmila bier will be released tonight! Davis Dogs will be pulling into our lot with their delicious varieties of hot dogs, and we welcome The O'Claire Brothers, members of Eau Claire's premier Irish band, the Shillelagh Lads pluckin' and playin' away! Food from 4-8pm, Bier Release at 5pm, and Music from 7-10pm.
Saturday, April 28th – Frughlingkindlmarkt/Spring Market
Our annual Spring Market this Saturday only! Come check out of all the great local vendors we have in our area! 12-5pm. Brochures are available in the Bier Hall!